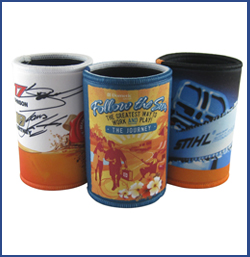 Item Name
Deluxe Stubby With Base,Taped & Sewn Side Seam-Overlocked Edges
CODE: SHA-6
Item Description
Deuxe Stubby With Base,Taped Sewn Side Seam-Deluxe Overlocking.
Made from 5mm neoprene with glued and stitched seams and glued in base. Overlocked edges for extra toughness.
The deluxe SHA-6 stubby holder comes in a large range of colours. As they are imported you have the choice of standard delivery (2-3 weeks) or using sea freight (8-10) which will save you quite a fair bit of money. Please check the price list for the savings and have a drink or two on us!!
Order or Enquire, or return to the Stubby Holders or the Neoprene Products or other Priced Promo products page
As we deliver Australia wide so it doesn't matter if you are looking for stubby holders in Brisbane, Melbourne, Sydney or any other capital city, we have free delivery on our stubby holders and other neoprene products to East Coast Capital Cities. For additional freight to other capitals or regional areas please see our price list.
Here is a price list of our general promo products range and minimum quantities!